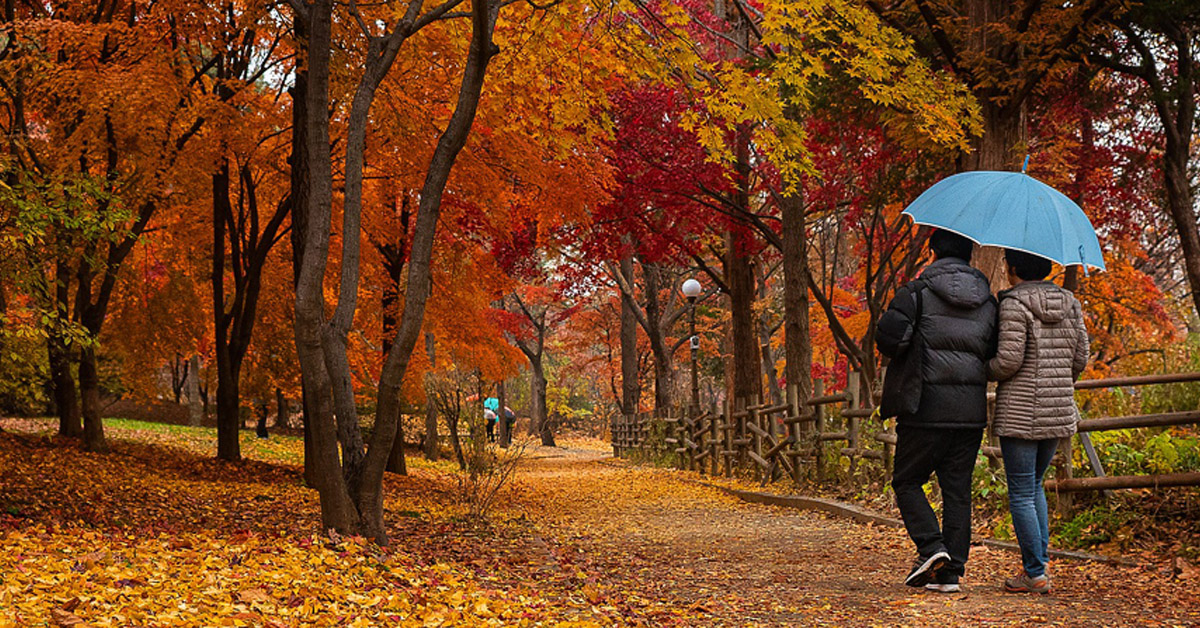 Most Affordable Places to Retire
We have compiled a list of the 10 most affordable places to retire in the U.S. Most of these places you've probably never heard of. That's because the most affordable places to retire are small towns, not big cities.
#1 Guymon, Oklahoma
Median Home Price: $76,000
Crime per 1,000: 19.6
Population: 11,700
Located west of Oklahoma City, Guymon is a quaint little town nestled in the heartland of America. Each year nearly 1,000 competitors take part in the Guymon Pioneer Days Rodeo which was inducted into the Professional Rodeo Cowboys Hall of Fame. Nearby Optima National Wildlife Refuge offers opportunities to view birds and other wildlife. The local Guymon economy is primarily comprised of agriculture and oil & natural gas production.
#2 Mexico, Missouri
Median Home Price: $96,800
Crime per 1,000: 32.3
Population: 11,700
Mexico, Missouri is home to the annual Miss Missouri Pageant. This picturesque little town is situated about 40 miles north of Jefferson City, the state capital. A number of artists live in the area and offer classes in dance, theater, photography, painting and creative writing at the Presser Performing Arts Center. Graceland (not that Graceland) is the county's historical society and museum. The town's name has an interesting story. The first settlers found a sign pointing southeast with the word 'Mexico' painted on it. They decided to leave the sign in place and named the town after it.
#3 Hereford, Texas
Median Home Price: $97,400
Crime per 1,000: 29.1
Population: 14,900
Hereford, Texas is the self-declared 'Beef Capital of the World' with more than a million head of cattle within a 50 mile radius. But that's not all Hereford has to offer. Nearby Palo Duro Canyon State Park and Buffalo Lake National Wildlife Refuge provide beautiful views of wildlife in their natural habitat. Interestingly, astronaut Ed Mitchell is from this small town located about 80 miles north of Lubbock.
#4 Wapakoneta, Ohio
Median Home Price: $103,900
Crime per 1,000: 15.7
Population: 9,800
Speaking of astronauts, Wapakoneta is the birthplace of perhaps the most famous one of all, Neil Armstrong. Located approximately 60 miles northwest of Columbus, Wapakoneta's public schools are ranked among the top in the nation. Roughly translated, the town's name, which is derived from the Shawnee Indians, means white cloth. The downtown historic district features restaurants & bars, antique shops, bookstores and a movie theater.
#5 Decatur, Indiana
Median Home Price: $109,000
Crime per 1,000: 18.7
Population: 9,500
Decatur, Indiana is home to over a dozen parks and a half-dozen bowling alleys. Adams Memorial, one of the nation's top 100 critical access hospitals, is located in Decatur. This town, which was settled by British Puritans, has a number of unique establishments including 224 Pub & Grill, Back 40 Junction, The Galley, Two Brothers, The West End, Vinnie's, River View Tavern, Wet Spot, Double Eagle Clubhouse Grille, and Small Town Bar & Grill. Decatur is located about 80 miles northeast of Indianapolis.
#6 Oskaloosa, Iowa
Median Home Price: $110,000
Crime per 1,000: 30.5
Population: 11,500
Oskaloosa, Iowa is another town that derives its name from Native Americans. Located 50 miles east of Des Moines, this old coal mining town has experienced an art renaissance. Each spring Oskaloosa hosts an art festival in the town square and in the summer it holds the Sweet Corn Serenade music festival. William Penn University is located in Oskaloosa as are a pair of homes designed by renowned architect Frank Lloyd Wright.
#7 Greensburg, Indiana
Median Home Price: 110,900
Crime per 1,000: 11.7
Population: 11,900
Greensburg, Indiana is situated about halfway between Cincinnati and Indianapolis. The town's two million square foot Honda automotive plant helps fuel the local economy. Farms in the area grow apples, peaches, pumpkins and grapes. Tour the Ertel Cellars Winery and enjoy a glass of wine over lunch at The Bistro.
#8 Ionia, Michigan
Median Home Price: $119,300
Crime per 1,000: 19.4
Population: 11,300
Each summer Ionia, Michigan hosts a 10-day fair featuring rides, animals, live performances and a parade. Drawing close to a half million visitors, it's the country's largest free fair. Ionia is home to four state prisons which help keep the local economy humming. You can play a round of golf at Rolling Hills and head to the Alibi afterwards for drinks. Ionia is located about 40 miles east of Grand Rapids.
#9 Worthington, Minnesota
Median Home Price: $119,900
Crime per 1,000: 16.5
Population: 13,100
Located about two hours southwest of Minneapolis, Worthington hosts an International Festival each summer featuring ethnic food and music and a talent contest. Each June there's a windsurfing regatta and music festival. Become a member of the Worthington Country Club or go fishing on Okabena Lake.
#10 Moore, Oklahoma
Median Home Price: $129,900
Crime per 1,000: 24.8
Population: 61,400
Yes, that Moore, Oklahoma. This town has rebuilt since the 2013 tornado that made it famous. Moore is a quiet town with a low crime rate and affordable housing. The town is located approximately 80 miles southwest of Tulsa and boasts award-winning public schools and a city market with over one hundred vendors.
Conclusion
The 10 Most Affordable Places to Retire are summarized in the table below. At the bottom of the table for comparison are the values for the city with the highest median home price, San Francisco, and the highest per capita crime rate, Baltimore.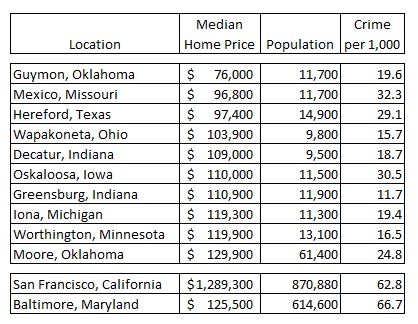 Median home prices courtesy of Zillow. Crime data courtesy of Neighborhood Scout.
The Eggstack Blog will never post an article influenced by an outside company or advertiser. There are no external affiliate links or advertisers on the Eggstack Blog. Our mission is to help you overcome uncertainty about retirement planning and inspire confidence in your financial future.