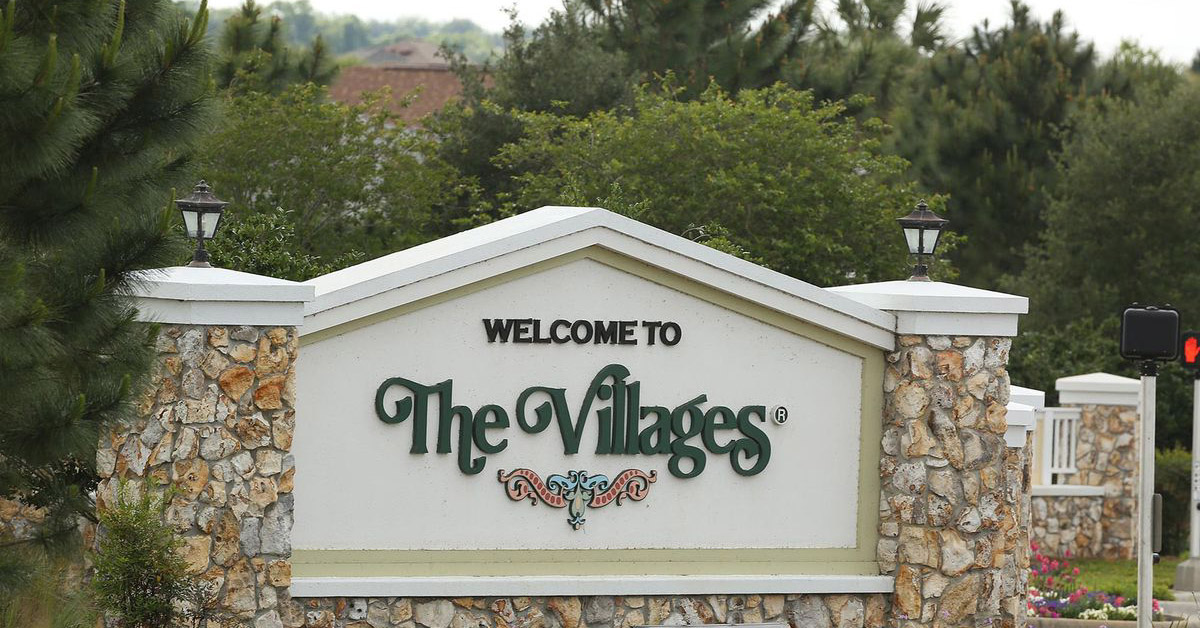 The Villages
We invite you to join us as we explore The Villages, the largest and fastest-growing retirement community in America. Located in sunny central Florida, The Villages is home to approximately 80,000 residents.
Show Me the Money
Homes in The Villages range in price from $150,000 to $1.5 million, although the majority fall in the $250,000 - $450,000 range. The average price on a dollar-per-square-foot basis is $167. In addition to home prices, there are other costs to consider. Each household is charged a $162 monthly amenity fee which goes to pay for the golf courses and town squares and other features. Annual property taxes on a $300,000 house are approximately $3,000, which includes the bond (construction impact fee), CDD (community development district), and Florida's homestead exemption.
By way of comparison, in parts of San Francisco and New York City's Upper East Side, real estate goes for as much as $1,500 per square foot. Here's a comparison of what $300,000 buys in San Francisco versus The Villages: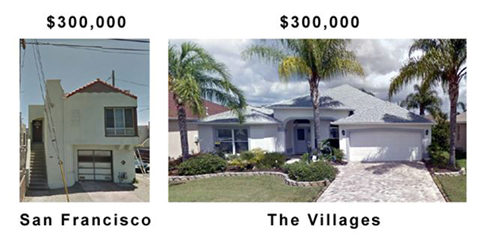 The house in San Francisco was built in 1938 and it has 2 bedrooms and 1 bath for a total of 1,130 square feet. The house in The Villages was built in 2005 and it has 4 bedrooms and 2 baths totaling 1,940 square feet.
In addition to single-family homes, The Villages also offers patio homes, cabanas, bungalows and townhomes.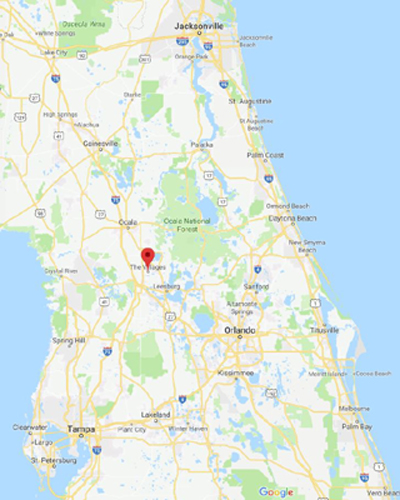 Location, Location, Location
The Villages is located in Sumter County about halfway between Orlando and Ocala. It's approximately an hour's drive from Orlando and about an hour and a half to either of the two nearest airports, Orlando International and the smaller Sanford airport. Beach access is 40 miles to the Gulf side and 70 miles to the Atlantic side. Everyday shopping is located nearby including Walmart, Publix grocers and Lowes. Nearby attractions include Disney World, the Ocala National Forest, and Tampa's Hard Rock Hotel & Casino.
The Sizzle
For those 55 and older, The Villages offers an affordable lifestyle with great weather, friendly people, well-organized common areas, a virtually nonexistent crime rate, and a plethora of activities and amenities. The Villages has 2,500 social clubs, 50 recreational centers with swimming pools, 3 town squares, a performing arts theater, 48 golf courses, 11 parks, 3 dog parks, 3 libraries, 3 movie theaters, its own hospital, fitness trails, softball fields and even a polo stadium. You can enjoy shopping, car shows, sports teams and live entertainment every night in the town squares. Other activities include music & theater, arts & crafts, fishing, photography, scuba diving, canoeing, pickleball and quilting. Fitness opportunities include golf, tennis, swimming, dance, water polo, aerobics, yoga, bicycling and power walking. There are over 100 restaurants and bars in The Villages and happy hour begins each day at 11:00 a.m. The Villages has trollies for local transportation and airport shuttles.
Community
The Villages consists of approximately 50,000 households. And it's still growing: a recent 8,000-acre land purchase brings with it the promise of years of new construction. On average about 2,500 new homes are built in The Villages each year.
The median age in The Villages is 67 and like any neighborhoods the residents tend to age with the neighborhood. Older neighborhoods are populated by mostly older residents and newer neighborhoods tend to be inhabited by recent retirees. Newcomers might be happier building a home in one of the newer neighborhoods.
Golf Carts
If you're going to move to The Villages you should plan on buying a golf cart. It's not actually a requirement but most residents consider it their second car. Naturally the 65,000 golf carts in The Villages are at home on the golf courses, but residents also use them to travel throughout the vast community. Many people have customized golf carts that resemble classic cars or hot rods.
Try before you Buy
The Villages offers a Lifestyle Preview program for those interested in sampling the community. During your stay in one of their fully-furnished Creekside Cabanas for anywhere from 4 days to 2 weeks, you have access to all of the amenities as well as a golf cart and bicycles. There's really no need to rent a car, you can take the airport shuttle and use the golf cart once you arrive. Cost for double occupancy per night varies by season:
January: $179
February – March: $199
April: $149
May – September: $99
October – December: $149
Rentals homes are available for those who want a more extended visit.
Conclusion
Choosing to live in a retirement community is a big decision. For some it could be the best thing they've ever done, and others might find that aren't cut out for it. If you enjoy an active lifestyle surrounded by friends, The Villages might be perfect for you. There's certainly no lack of things to do. The people in The Villages have a saying about that: "If you're bored, it's your fault."
The Eggstack Blog will never post an article influenced by an outside company or advertiser. There are no external affiliate links or advertisers on the Eggstack Blog. Our mission is to help you overcome uncertainty about retirement planning and inspire confidence in your financial future.