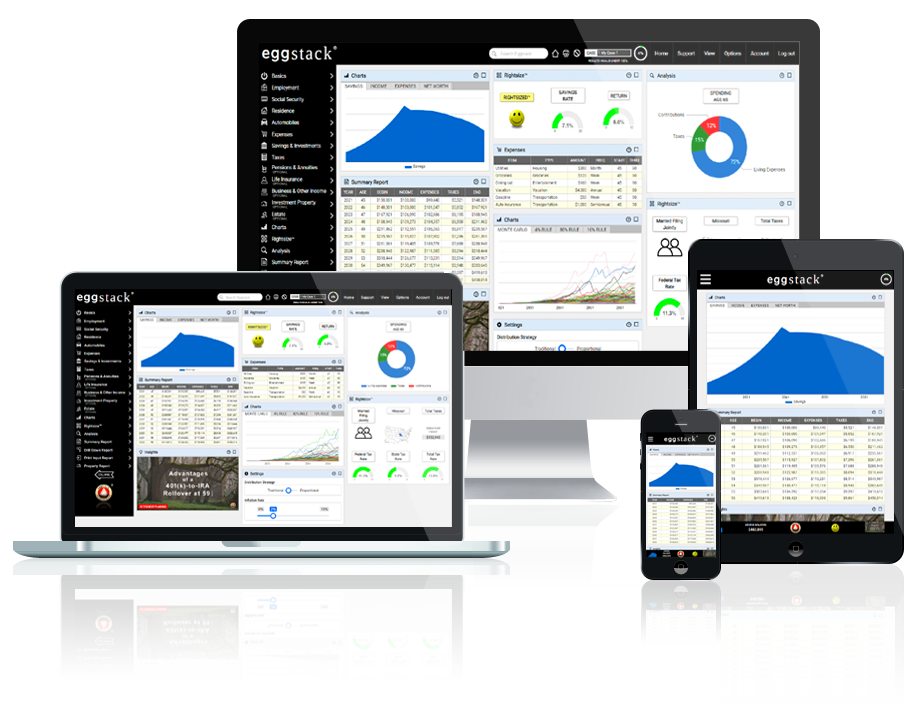 NEXT-GENERATION TECHNOLOGY
Intelligent Planning: Eggstack empowers you to take control of your financial future and manage every aspect of retirement planning. Modeling features include Roth conversions, portfolio rebalancing, reverse mortgages, business income, investment property, pensions, annuities, tax increases, QLACs, life insurance, Social Security insolvency, alternate distribution strategies, multiple cases, state comparisons, home purchases and more. Eggstack has all the tools you need to evaluate every possible scenario.
Monte Carlo Simulation: Eggstack employs Monte Carlo simulation, a powerful quantitative tool designed to stress-test financial models.
Tax Computations: Taxes play an important role in retirement planning, which is why Eggstack doesn't just estimate your taxes, it calculates them. Eggstack computes your tax bill each year based on IRS tax code and the tax laws in your state.
Bye-Bye Rules of Thumb: In a world where computers and smartphones can perform billions of calculations in a single second, there is no place for retirement rules of thumb. Besides, who in their right mind would base something as important as retirement on a rule of thumb?